I recently acquired an iPod Touch and I was over the moon to say the least, with my new toy. Sadly after 4 days of very light usage and I mean light because I haven't had much opportunity to play with it, the screen has gone all funny. There are plenty of stories out there on the web about faulty iPod Touch screens but they all refer to an odd contrast problem while displaying the colour black in pictures and video. My problem does not seem to have been posted yet – sadly a first for me. 🙁 I switched it on last evening and noticed that there was a yellow hue on the edge of some of the icons and when I opened Safari there was blue colour leaking into text in the title bar, and some of the keys on the touch keypad refused to work while in portrait orientation. I tried upgrading to the latest firmware (released 3 days ago or so) just in case a faulty video driver or similar was the cause of my problem (although a driver shouldn't degrade over the course of a few days given that it was fine when I first opened it). Sadly, the problem is definitely a dodgy screen and from what I read on the other internet fora about the black colour display problem, this is not the first dodgy screen that Apple have released with the Touch. My wife spent a lot of money on this as a birthday gift for me Apple, I'm not impressed; not impressed at all to learn that you are shipping faulty products. See images below.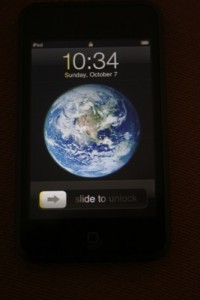 Here we see a number of problems. The A at the beginning of Apple in the title bar is blue when it should be black. Just above my finger tip there is a yellow discolouring slightly to the left and around the edges of the character selection box you can see a blue fuzziness as if the screen was leaking colour.
I'm off to see what Apple can do about this now – I will not accept a refurbished product and I don't want anyone opening and potentially marking my device. I want a new product Apple – you shipped a faulty unit and I want it replaced not repaired!!!
UPDATE 09/10/2007: Contacted Apple support last evening and they have agreed to replace the item. They are arranging a courier to collect the old iPod and I should have a new one in about 3 weeks. It's longer than I would like to wait but at least it's a replacement I guess. Will update again if I have any more news.